Web Calendar Pad
Web Caledar Creation Software
Web Calendar Pad, creates printable calendars that you can publish to your website.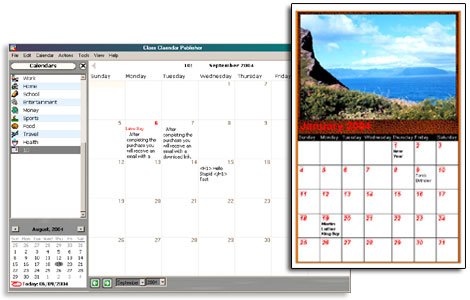 What is Web Calendar Pad?
Web Calendar Pad is a computer program for Windows XP, 2000, and NT that allows you to create professional looking monthly calendars for your internet web site. Calendars which your visitors can view, download, print, and even subscribe to. You can choose from over 30 calendar styles, or make your own style that includes, photos, textures, and custom fonts. Web Calendar Pad comes with powerful built-in FTP upload module, that lets you update your calendar with one click of the mouse.
Why use Web Calendar Pad?
Web Calendar Pad facilitates the creation of html calendars that are easy to update and maintain, with out the need for web server side scripting or databases. The advantages of this method are that the calendar can be maintained and updated using a windows application by reguglar computer users, with out needing to install or use server side scripts. A typical use of the software is to create a web site calendar for a small company, team or a school.